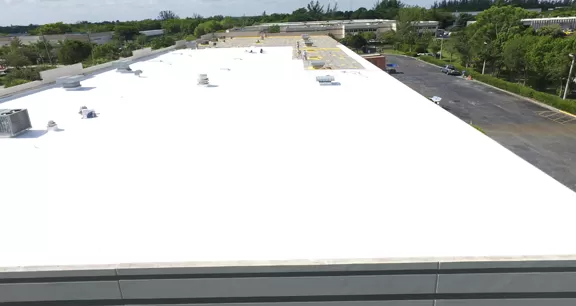 SPF Roof Systems in Orlando
Posted by admin
On June 7, 2023
0 Comments
Living in areas prone to hurricanes makes your roof vulnerable to heavy downpours and high winds. Spray polyurethane foam (SPF) roof systems in Orlando are a popular choice among owners of commercial properties. Here, you'll learn about the benefits of this tapered, seamless roof system. 
High R-Value
Essentially, R-value is the capacity of the insulating material to resist heat flow, and the higher the R-value the greater the power to insulate. 
Energy efficiency is important with commercial properties. With an exceptionally high R-value SPF roof system, there is much less heat that transfers in and out of the building. This puts less strain on your HVAC system, which reduces the consumption of energy and reduces your bill each month. 
Durable Yet Easily Renewable
With proper maintenance, an SPF roof system can last up to 20 years. During that time, your property will have solid protection from debris, precipitation, and fluctuating temperatures. 
However, when the time comes, it's easy for your contractor to recoat your roof. This can significantly increase the lifespan of your roof and save considerable expense. 
Self-Flashing
Self-flashing refers to SPF's ability to conform to irregular shapes such as drains, HVAC components, parapet walls, pipes, skylights, and drains. This is vastly different from other roof systems that have to be custom cut in order to be installed correctly. 
Beneficial for the Environment
Choosing an SPF roof system means eliminating the need for vapor barriers or additional insulation. In turn, this reduces unnecessary waste during installation. Materials used for an SPF roof system can also be recycled and repurposed. With increased energy efficiency, you can decrease the carbon footprint of your property. 
Choose Cool Roof for SPF Roof Systems in Orlando
This system not only can save you money, but it reinforces the structural integrity of your property. Proper, expert installation is key and that's what the team at Cool Roof can do. Contact us at 954-788-1140 to request your free estimate today.