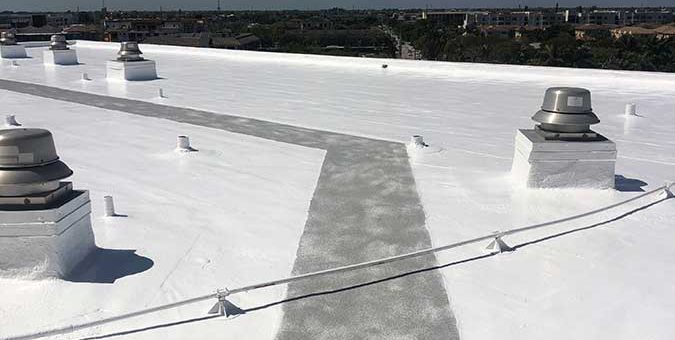 Silicone Roof Restoration in Pompano Beach
Posted by admin
On June 6, 2023
0 Comments
Silicone Roof Restoration in Pompano Beach Offers Long-Lasting Protection
Silicone roof restoration is widely done in the industry because it allows you to avoid a total roof replacement. UV resistant, weatherproof, and highly reflective, silicone is also long lasting and easy to maintain. If you are a South Florida property owner or manager in need of roof repair, considering silicone roof restoration in Pompano Beach may be just what you need for your commercial, or industrial property.
What Is Silicone Roofing Restoration?
Silicone roofing restoration is a process that involves the application of a specially formulated silicone coating onto an existing roof. This type of restoration offers increased protection from the elements and helps to restore the roof to like-new condition.
Here Are Just a Few of the Many Benefits of Silicone Roof Replacement
Utilizing silicone for restoration is beneficial for a number of reasons.
Silicone roofing can be applied over existing roofs, eliminating the need for a complete roof replacement.
Silicone coatings are highly reflective, allowing them to reflect the heat of the sun away from the building, making it more energy efficient.
It's resistant to environmental degradation, including heavy rain and wind that can damage other roofing materials.
This material is easy to maintain and does not require any complicated pre- or post-installation procedures.
How Do I Know if I Need Roof Restoration?
It's typically easy to tell if your roof is in need of a silicone roof restoration, especially if you have an older roof. Signs of a damaged roof include broken or missing tiles and shingles, rust spots, mold / moss / mildew growth, and water damage in your attic. If any of these  are present, it is important to investigate further, as the damage may have been caused by aging, weathering, or inadequate maintenance.
If you believe that your roof is in need of restoration, it is important to consult with a professional, to ensure that you are getting the best possible solution for your specific problem.
Choose Cool Roof for Silicone Roof Restoration in Pompano Beach
It is important to choose a reputable contractor for roofing repairs replacement, and protection, which is why you should choose Cool Roof! We are experienced in silicone roof restoration and are dedicated to providing high-quality workmanship in a timely manner.
With a team of professionally trained roofers, Cool Roofing Systems delivers great customer service and can complete all of your roofing needs. Additionally, we offer a satisfaction guarantee and beat competitor pricing.
Call us today at 877-354-3626 for a free quote. We use only top-of-the-line materials to ensure that your roof is restored to its original condition or even better!